News center
Contact us
Add: 19-702,SongQuan Villa,Taibai Road,Luohu,Shenzhen,China
Tel: +86-755-25512007
Fax: +86-755-25512007-2005
Email: sales@conterway.com
Product show
AXIS Q16 Network Camera Series comprises of indoor and outdoor-ready fixed cameras Outstanding light-sensitivity: Lightfinder and WDR-dynamic capture capabilities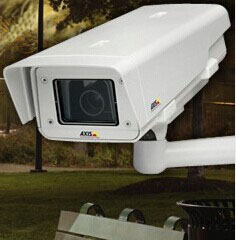 Product Numbers:AXIS Q16
Price:0
Product introduction:AXIS Q16 Network Camera Series comprises of indoor and outdoor-ready fixed cameras Outstanding light-sensitivity: Lightfinder and WDR-dynamic capture capabilities
AXIS Q16 Network Camera Series comprises of indoor and outdoor-ready fixed cameras Outstanding light-sensitivity: Lightfinder and WDR-dynamic capture capabilities
Outstanding light-sensitivity: Lightfinder and WDR-dynamic capture capabilities
CS-mount lens
Multiple H.264 video streams
Power over Ethernet
Outdoor-ready models with Arctic Temperature Control
Comparisons during demanding lighting conditions
AXIS Q1602 Network Camera
AXIS Q1604 Network Camera
Lightfinder technology.
Click on image to enlarge.
WDR-dynamic capture.
Click on image to enlarge.


Fixed network cameras for variable lighting
AXIS Q16 Network Camera Series comprises of indoor and outdoor-ready fixed cameras that deliver outstanding image quality in demanding video surveillance conditions, such as poor light or highly variable lighting.
Indoor and outdoor applications
The cameras are suitable for a wide range of video surveillance applications, including government and industrial buildings, retail environments, airports, railway stations and schools.
AXIS Q16 Network Cameras are available in indoor
and outdoor-ready models
Feature
Network camera model
Indoor
AXIS Q1602
AXIS Q1604
AXIS Q1614
Outdoor-ready
AXIS Q1602-E
AXIS Q1604-E
AXIS Q1614-E
Max video resolution
768 x 576
1280 x 960
1280 x 960
Max frames per second
30
30/25
60/50
Min illumination (color)
0.05 lux
0.1 lux, 0.4 lux with WDR
0.05 lux, 0.4 lux with WDR
Megapixel/HDTV
720p/1MP
720p/1MP
Lightfinder
Digital pan/tilt/zoom
Wide Dynamic Range - dynamic capture
Two-way audio
Built-in microphone
*
*
*
Alarm in/out
1/1
1/1
1/1
Varifocal lens
DC-iris
P-Iris
Remote back focus
Pixel counter
Day and night
Memory card slot
Power over Ethernet
**
**
**
AXIS Camera Application Platform
*

Indoor version only


** -40°C with High PoE, -30°C with PoE 802.3af