News center
Contact us
Add: 19-702,SongQuan Villa,Taibai Road,Luohu,Shenzhen,China
Tel: +86-755-25512007
Fax: +86-755-25512007-2005
Email: sales@conterway.com
Product show
AXIS Q1602 Network Camera with Lightfinder technology
Product Numbers:AXIS Q1602
Price:0
Product introduction:AXIS Q1602 Network Camera with Lightfinder technology
AXIS Q1602 Network Camera with Lightfinder technology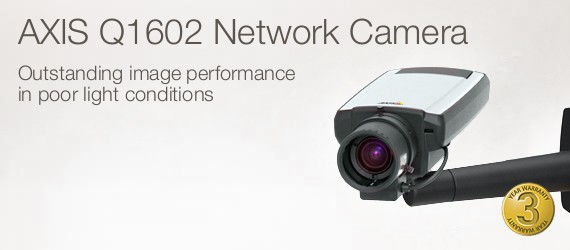 Lightfinder technology with extended D1 (768x576) resolution
Day/night functionality
Multiple H.264 video streams
Easy installation with remote back focus
Local storage
Axis' unique Lightfinder technology
The noise reduction of the Lightfinder technology is vastly improved compared with any surveillance camera on the market, which in combination with the light sensitivity of the sensor gives a superior image quality.
AXIS Q1602 incorporates Axis' revolutionary Lightfinder technology. Compared with any analog or network cameras, the Lightfinder technology will give more life-like colors, in low-light conditions.
The camera delivers progressive scan image quality at extended D1 (768x576) resolution, multiple, individually configurable H.264 and Motion JPEG video streams simultaneously.
Ease of installation
The focus assistant indicates when the image is in focus by the flashing front LED of the camera. Having performed rough focusing at the lens, the remote back focus capability of the AXIS Q1602 is conveniently used for fine tuning focus.

The unique pixel counter ensures that the viewing angle is optimized for the monitored area and required pixel resolution. It allows the installer to easily verify that the camera installation fulfils regulatory or specific customer requirements on pixel resolution, e.g. the face of persons passing a doorway monitored by the camera.
GSN 2011 award winner
The AXIS Q1602 Network Camera with Lightfinder technology collected an award when it took home the prize for Best Thermal, Night Vision, Infrared Cameras at the GSN Awards ceremony in November 2011.